Author: C.A. Gray
Narrator: Melissa Thom
Series: Piercing the Veil Trilogy, Book 2
Publisher: Wanderlust Publishing
Released: Sep. 07, 2018
Length: 8 hours 12 minutes
Genre: Young Adult, Fantasy


The Shadow Lord rises again seeking a weapon of ultimate power.

Peter Stewart is a dead ringer for the legendary King Arthur, and because of that, everyone in Carlion believes that he is the Child of the Prophecy, destined to destroy the Shadow Lord. But Peter doesn't want to be a hero; all he wants to be is left alone.

Lily Portman also fits the prophecy. Having spent her entire life as an orphan and a misfit, Lily would love nothing more than to be the Child of the Prophecy, so she envies Peter…but she's also developing a crush on him. And it seems to her that he couldn't care less.

Isdemus and the Watchers believe that it is only a matter of time before Peter's twin brother Kane betrays them all and frees the Shadow Lord. The winner of the war to come depends on who has the legendary Philosopher's Stone – the only problem is, it has been lost since the days of Arthur. With the help of a skeptical anthropologist, the Watchers attempt to decode the ancient treasure maps that lead them to the heart of Egypt and the dawn of time. Meanwhile, Lily and Peter discover that Peter holds the real key to the mystery…but will they be too late?




By day, C.A. Gray is a Naturopathic Medical Doctor (NMD) with a primary care practice in Tucson, AZ, and she writes medical books under her real name (Dr. Lauren Deville). She lives with her husband, with whom she maintains a facetiously contentious movie review blog, and travels as often as they can get away. When not writing or seeing patients, she does yoga, drinks red wine while eating dark chocolate, and consumes audiobooks like there's no tomorrow!

Melissa has over 17 years' experience as a voice actor, broadcaster, presenter, entrepreneur & communications consultant. Always fond of spinning a good yarn, she has an English Literature degree & studied acting at Bristol Old Vic & The American Conservatory Theatre, San Francisco. Melissa kicked off her career in 1999 as station voice at Surf 107.2, Brighton. She went on to host breakfast for the GWR Group and Sunday breakfast on Galaxy 101 for Chrysalis. Numerous gigs for major brands followed, including Heineken – where she was the main voice for their 'Found @ Thirst' annual Caribbean DJ competition for over 4 years. Current clients include Google, Facebook, The Economist and Late Night Tales – a series of artist curated compilation albums.

Now, that's the story I was hoping for! While it's often the second book that struggles, in this one I felt that the first book could have been better, but this one makes it all worth it! While I enjoyed the first book, it was a bit chaotic at times, and this one is where things finally start to make sense, and fit together. I enjoyed the characters more, the plot flowed smoothly, and the writing was well done.
While I'm not a fan of changing narrators for each book if not absolutely necessary, Melissa does a wonderful job picking up this series. I really enjoyed listen to her as she brought the story to life with character accents and emotion added as she read.
I received this audiobook as part of my participation in a blog tour with Audiobookworm Promotions. The tour is being sponsored by C.A. Gray. The gifting of this audiobook did not affect my opinion of it.

BOOK ONE
Oct. 4th:
In Pattis Imagination

The Book Junkie Reads . . .

Oct. 5th:
Lilly's Book World

Adventures Thru Wonderland

Oct. 6th:
Notes from 'Round the Bend
T's Stuff
Bean's Bookshelf

Oct. 7th:
Jazzy Book Reviews

Oct. 8th:
Haddie's Haven
Writers N Authors

Oct. 9th:
Lynn's Romance Enthusiasm
Smada's Book Smack
Oct. 10th:
The Book Addict's Reviews

BOOK TWO
Oct. 11th:
In Pattis Imagination

The Book Junkie Reads . . .

Oct. 12th:
Lilly's Book World
Bean's Bookshelf

Oct. 13th:
Notes from 'Round the Bend

Adventures Thru Wonderland

Oct. 14th:
Lynn's Romance Enthusiasm
T's Stuff
Writers N Authors

Oct. 15th:
Jazzy Book Reviews

Oct. 16th:
Haddie's Haven

Oct. 17th:
The Book Addict's Reviews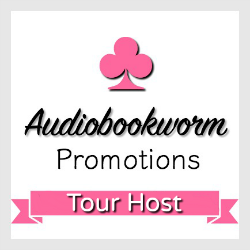 ➜Sign up as a host here