Full Two Can Keep a Secret Blog Tour Schedule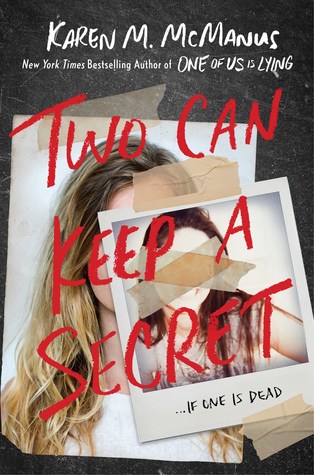 ………………………………………………………………………………………………………………………………….
About the Book:
Title: TWO CAN KEEP A SECRET
Author: Karen McManus
Pub. Date: January 8, 2019
Publisher: Delacorte Press
Formats: Hardcover, eBook, Audiobook
Pages: 336
Find it: Goodreads, Amazon, Audible,  B&N, iBooks, TBD
Echo Ridge is small-town America. Ellery's never been there, but she's heard all about it. Her aunt went missing there at age seventeen. And only five years ago, a homecoming queen put the town on the map when she was killed. Now Ellery has to move there to live with a grandmother she barely knows.
The town is picture-perfect, but it's hiding secrets. And before school even begins for Ellery, someone's declared open season on homecoming, promising to make it as dangerous as it was five years ago. Then, almost as if to prove it, another girl goes missing.
Ellery knows all about secrets. Her mother has them; her grandmother does too. And the longer she's in Echo Ridge, the clearer it becomes that everyone there is hiding something. The thing is, secrets are dangerous–and most people aren't good at keeping them. Which is why in Echo Ridge, it's safest to keep your secrets to yourself.
………………………………………………………………………………………………………………………………….
Review: I've always loved a good mystery, but find I don't read many mystery books because I ten to guess the ending or 'bad guy' early on in most cases. For that reason alone I am so happy I read this book, but more than that I loved the characters! Often mysteries seem to be more plot based, but this one has a nice balance between an immersive and engaging plot, and strong characters to support it. I really enjoyed the suspense and loved that it was difficult to pin down one suspect as more likely than the others to be the villain.

………………………………………………………………………………………………………………………………….
About Karen:
As a kid I used to write books when I was supposed to be playing outside, and not much has changed.
I'm a marketing and communications professional who also writes Young Adult contemporary and
fantasy fiction in Cambridge, MA.
When not writing or working I love to travel, and along with my nine-year old son I've ridden horses
in Colombia and bicycles through Paris. A member of SCBWI, I hold a bachelor's degree in English
from the College of the Holy Cross and a master's degree in Journalism from Northeastern University.
Which I have never, ever used professionally.
Website | Twitter | Goodreads | Instagram
………………………………………………………………………………………………………………………………….
3 winners will receive a finished copy of Two Can Keep a Secret! (US only)
Rafflecopter link: